<!- xmas update -->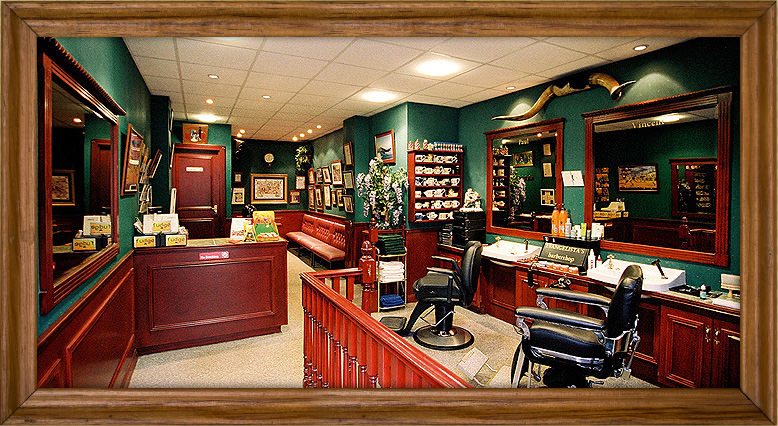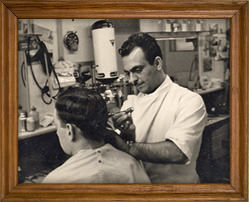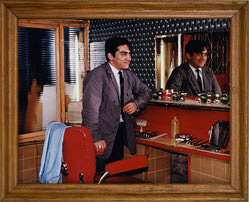 - welcome to -
Evangelistas Barbershop
My clientele have always enjoyed the benefits of an exclusive grooming service in a uniquely traditional barbershop where I offer you the highest standard of personal grooming tailored to your exact requirements and it is always my intention to make your visit a unique and enjoyable experience.
Paul Evangelista Snr.
- list of -
Our Services
---
---
Hairstyling

(approx time 20-25 mins)

Haircut (Shampoo/Conditioner/Head Massage)

(approx time 30 mins)

Long Hair Styling

Change of Hairstyle with consultation

(approx time 20-30 mins)

Hot Towel Shave with toning face massage

(approx time 20 mins)

Beard Profiling

Moustache Trim

Excess Eyebrow/ Ear and Nasal hairs - are removed if required at no cost

"The Works" with Hot Towel Shave

(time 60 mins) Available only on appointment days

This has been said to be the ultimate experience in relaxation and stress reduction, helping to improve your "feel good factor" and well being. You are also most welcome to bring along your own favourite music CD!

Starting with your haircut, we then proceed to your shave, hot towels are applied to soften the epidermis, preparing your skin for a unique shaving experience where you are then lathered up, and given the "downward stroke" once this has been completed a second towel is applied in readiness for the second shave where the "upward stroke" is given for a very close shave. We then complete the experience with a toning face massage.

A selection of after shave lotion or soothing skin balm is on offer - the choice being yours, with the final stage of "the works" ending with a shampoo, scalp massage and blow-dry.

You will then have experienced "THE WORKS" and be well assured, that you will walk out of Evangelistas barbershop feeling relaxed... refreshed... and on top of the world, ideal for that special occasion!
---
---
- Inside -
The Barbershop
- about Paul -
The Barber
---
---
The Name Evangelista in Hairdressing

The Name Evangelista in Hairdressing

The name Evangelista is synonymous with Hairdressing for almost 80 years; since Paul's grandfather arrived on these shores from his native Italy. The dynasty has come a long way since the early days when Grandfather Angelo learned to cut his family's hair because he couldn't afford to send them to the Barbers!

After some 30yrs, Angelo handed the family business over to his son Adolpho, who started his training at the early age of 14yrs. He and his father Angelo worked together in Linthouse until my father started his own Barbershop in the then thriving community of Govan. He in turn taught me and we worked together for many years. In 1972, Paul opened his own Barbershop in the town of Johnstone where he has continued to offer his tonsorial services for the "discerning man" for some 42yrs now.

Paul is now happy to carry through the family tradition into the 4th generation by inviting his two sons Paul & Vincent to learn the "Art of Barbering". Both of them have now completed their training and Paul Jnr now manages his own successful Barbershop in Sauchiehall Street in Glasgow called The Sauchiehall St Barbers and has also expanded his business to include Absolut Hair for the ladies. Vincent now operates his own Barbershop in the town of Renfrew and has called it Evangelistas Barbershop. So now, the family cycle of barber training has been completed and now guarantees that our family history of Barbers will continue well into the future. We can only hope that "hair" will always be part of human evolution!

And finally...you may be wondering why there is no image of Paul Evangelista himself on this page. Well, this is due to the fact that some have said Paul bares a slight resemblance to a certain Nintendo character, but we'll let you be the judge of that. Click here to view the picture! (incidentally, Paul Evangelista is the one on the right...)

Angelo Evangelista 1891 - 1986

Adolpho Evangelista 1923 - 1994

Paul the Barber's Family History

Paul the Barber's Family History

Hello everyone,

I guess I should start this story from as far back in time as possible and I have managed to research our history to the year 1378, where we found that our family name is derived from the personal name of Evangelista, which it is said reflects devotion to San Giovanni Evangelista, which translates to St. John the Evangelist which in turn is derived from the Greek "evangelistes", which means "good news".

One of the earliest references we could find to this name is a record of one Giovanni Evangelista, a cleric, writer and teacher mentioned in 1378. notable bearers of our surname include another Giovanni, he was a goldsmith, mathematician and draftsman cited in 1455. Seventeen century records from Casamassima (Bari) mentions the birth of Angela Antonia Evangelista, daughter of Vito Evangelista and Rosa Pisingo, registered on the 24th November 1630. We also read of a marriage between Pietro Antonio Evangelista and Angela Mattea, also registered in Casamassima on the 18th May 1693 and also their son Bartolemeo Evangelista, documented in 1703. Michelangelo Evangelista and Anna Di Paolo were wed in another small village near Bari called Corato on the 20th December 1727. Apparently, there are other bearers of our surname include Francesco Paolo Evangelista, a sculptor born in 1837. Then came a Gaetano Evangelista, a writer born in 1906, there was also Alfredo Evangelista, a music composer mentioned in 1928, then came my Grandfather Angelo Evangelista born in Rome 1891, who was to begin our barbering dynasty in Linthouse near the town of Govan with his first Barbers chair, he also had a brother named Joseph who was to take a different path in hairdressing and become a very successful Ladies Hairdresser in London, Paris and Italy where he won many top competitions and awards from 1937 and was patronised by Leading Society and attended to Ladies for the Royal Coronation. Then came my own father Adolpho Evangelista married to Yolanda De Angelis, both born 1923 in Scotland they had three sons Ramonde, Me and Ricardo. There's are a few "voids" left within my research, but I haven't finished the work on all my family connections as yet, as you can well understand it takes so much time and effort to do, but one day I will or perhaps one of my sons will take up the work.

So here we have finally arrived at me, Paul Evangelista born in 1951 and married to Connie Jannetta born 1953 both born in Edinburgh and married in Edinburgh we have two sons Paul & Vincent. Now we leap a couple of decades to my first day in my father's barbershop in 1967 where unknown to me, I was to embark on a fantastic and interesting journey through the winding paths we sometimes take in life and it was also to be the beginning of my "life education" and to gain a variety of knowledge from my clients (not forgetting to give a good haircut in return!)

My father was a great Barber and a great friend to many of his clients, someone to talk and joke with but ultimately walking out with a great haircut, he did teach me well in the art of barbering and that took 3yrs, and of course there were the "good times and the bad times" but his reward from all his patient efforts teaching me, was to go fishing in his day off and fish for Salmon and he enjoyed this great occasion with his good friends once a week to some of the finest salmon rivers that are found here in Scotland. Unfortunately the only aspect that failed to "rub off" on me was his ability to tell jokes and funny stories which he was famed for in his Barbershop his clients liked that quality in him and there was many a time when the shop would be in full laughter at his jokes and gossip talk incidentally, history tells us that ancient Barbershops were centres for news, talking politics and gossip…so I think there has been no change there for a thousand years or so!

Those were very enjoyable learning years for me but eventually the urge to move on and do my own thing became overpowering and so I left to open up my own Barbershop in 1972 and after 5 yrs on my own, my father sold his barbershop in Govan and so once again we worked together for many years.

It was unfortunate that he did not live long enough to see his two fine grandsons follow in the family footsteps, I think he would be very proud to see them Barbering now, but such is life…and such is death, we all move on the best way we can.

So my story continues through to my own Barbershop which I am now in my 34th enjoyable year in the town of Johnstone and it's friendly people (wow! doesn't time fly when your enjoying yourself) and I give great applaud and thanks to my clientele for helping me make Evangelistas Barbershop a success through their continued loyalty and also to thank my new clients who found me through "word of mouth" and our website/webcam. I have said on numerous occasions that "when you walk into my Barbershop you're never a stranger, just a friend that I haven't yet met".

I must tell you a story from the first few weeks in my own barbershop, so here we have a young Paul the Barber who had a lot of life learning to do and one day this guy came in to have his hair cut, and so we were chatting about where I came from and how the new barbershop was doing, just the normal kind of chat, and so after he paid for his haircut he mentioned that he worked in a nearby factory that produced Olive Oil and said that if I gave him £1.75 he would get me a 5 litre can of the stuff, so I thought it was a great opportunity and duly handed over the money thinking it was a great deal, I had expected his return but lo and behold…I never did see him again!

Stupid me! Who has ever heard of a factory in Scotland that produces Olive Oil, he must have thought, here was a right mug, and very "green behind the ears", so as the day wore on and he had failed to turn up. I asked another customer if there was such a local factory, his smiling reply was, "not that I'm aware of, why do you want to know?". I was too embarrassed to tell him the story of the guy whom I gave over money for the "local Olive Oil", so there lay my first valuable lesson in business!

The Worldcare Organisation

The Worldcare Organisation

I have always been an environmentally thinking person and I do respect our beautiful planet and all life on Earth, I remember displaying a poster in my barbershop which I bought in the 80's many of my clients commented how true these words were even in 1980 they were from an old American Indian Chief who prophesised:

"Only after the last tree has been cut down,
Only after the last river has been poisoned,
Only after the last fish has been caught,
Only then will you find that money cannot be eaten"

These words are so true of events that are happening just now and I felt the urge to help and contribute to a healthier planet and realised that after a few years in business, some of my high profile business clients were interested in what I had to say about our environment, so realising that I had a "captive audience" to preach my idea of creating an organisation called Worldcare a non-profit and charitable organisation dedicated to the improvement of our environment to which I would give my spare time, and so through their generosity and involvement in sponsoring Glass Banks back in 1989, Worldcare was created and started recycling glass to raise funds for the local St Vincent's Hospice, and over a period of between 2-3yrs, since Worldcare's inception in 1998, it successfully raised public awareness on the importance of recycling and how to look after our environment, we covered a lot of environmental ground with our local clean-up campaigns and recycling various materials such as glass/cans and cardboard, we even had our very own marathon runner and we were also given the opportunity to collect redundant computers and printers which was very lucrative and with help from our sponsors we raised enough revenue to purchased the Worldcare van and through one of our other sponsors, they converted the engine to run on natural gas which then made our vehicle completely environment friendly and actually influenced one of my clients who owned a local transport company to buy one of the new breed of environmentally friendly trucks of that time, we received great local and not so local publicity for our endeavours and in 1992, Worldcare received a prestigious environmental award from The Shell Best of Better Britain Campaign for our recycling efforts in which my most memorable memory of this event was to travel to London with my wife and family to receive this award from Sir David Attenborough whom we all know as a very learned man actively raising great awareness in the preservation of our planet and ecosystem.

This was indeed a great occasion and achievement for the Worldcare Organisation and it's few volunteers which was to be further enhanced a few weeks later by the Scottish version of the same award but on this occasion to be presented at Stirling Castle by Magnus Magnusson K.B.E the Scottish equivalent to Sir David, so as you can imagine we were all very proud and excited at the success of Worldcare.

Unfortunately, I was becoming more and more involved in the running of the organisation as volunteers thinned out and it was beginning to affect the time or rather lack of time I gave to with my wife Connie and bringing up our two young sons, and secondly, the smooth running of the Barbershop, as there wasn't a day gone by without phone calls in between haircutting concerning Worldcare activity, it was becoming too much for me to control and with the lack of volunteers to delegate the organisation and work, something had to give and sadly it had to be Worldcare, but it always remains dear to me and perhaps one of these days I might have the opportunity to give it a rebirth.

Firm's bottle banks boost hospice funds

Paul's Fag Free Zone Wins Award

The training of Paul and Vincent

The training of Paul and Vincent

This whole story is a tribute to my grandfather Angelo, my father Adolfo, and to my two sons Paul & Vincent who now continue in our family tradition of Barbers into a fourth generation.

So I started the training process of my eldest son Paul jnr who like me, was to take 3yrs to learn the family skills, and like all parents, we know that teaching your own anything in life is not an easy task, but we eventually made it through the trials and tribulations put before us, and he was eventually "trained up and shipped out" to make his own mark in the hairdressing world but also to make way for his younger brother Vincent where he and I embarked on another 3yr intensive training programme, and so after the 6yr training process of my two sons, I believe this is where my very own "deforestation" took place..... hence the lack of hair!

But hey, it's been worth the Blood, Sweat and Tears and at least my wife Connie and me came out at the other end relatively happy.

Paul Jnr giving his Dad a trim. 1998

Vincent Evangelista looking and learning from his father Paul in 1997.

Present Day

Present Day

So here I am to the present day telling you of my family history to the best of my knowledge, I hope you have found it interesting.

Before I go, I must tell you about 'The Virtual Barbershop Experience'. This was initially the idea of one of my clients and great friend Stefano, the creator of this website, and after a great deal of discussion over a haircut or two, we thought that it would be an interesting "people project" to install a webcam in the barbershop.

With the live Virtual Barbershop Experience now discontinued, I can share with you some cuttings from the archives by ways of a little sampling of the daily comings and going of my work day, and you can of course "look in" on me from time to time and see me doing what I love doing most...cutting hair and listening to a variety of music.

Thank you for your time and I wish you and yours all the best that life can bring.

Tonsorially yours,

Paul the Barber
- comments and -
Testimonials
---
---
£11,914 I've spent on fuel and Barbering fees since Primary 5, and now I'm a grown up.
41,492 miles driven just to sit in his chair for a chat, laugh, cry and to cut and style a few wisps.
He's battled the transition from pre-teen 80's mop head to well...follicles are wee bampots.
So I've spent 7.8 days and nights on his chair by driving 43 days.
Over 41 years I consider it money, time and kilometres of lost hair very well spent.

John Lamont - Scotland

Evangelista's - it's not just the great haircuts, it's the friendly, welcoming atmosphere, superb music, good coffee and an awesome barber.
It really is the supercar of barbershops. Bringing together the Italian artistry and passion of Lamborghini with the Audi values of efficiency of operation and precision, Paul is your maestro who continually provides "Haircuts durch Technik."

Craig Williamson - Scotland

In keeping with his Italian ancestry Paul is a renaissance man. Drawing on a wealth and depth of knowledge that comes from a tonsorial artist. Where you are reminded that a true barber is a highly skilled artist and with Paul you get a masterpiece every time.

Joe Irvine - Scotland

Some may think I am crazy, but for me a 500 mile round trip from Leeds for my hair stylist to perform his magic, is a small price to pay. Really it's the good patter that brings me back again and again. It's nice to come to the Auld Country and the hair cut is not bad either. All the best see you soon. Regards, Joe

Joe Kidd - Leeds, England

Been a customer since Paul opened, considering the canvas he has to work with (in my case only!) he does a remarkable job, a true tonsorial artist!!

Ian Begley - Scotland

Been here since Primary School year 1, now retired and taking it easy. Today Paul said he was camera shy! For a Barber with a webcam its hard to believe!

J.Lamont - Alloa, Scotland
First time I've looked at the site, its really smart! Meant to say when I phoned - thanks for the CD, its quality, very chilled out!

David MacLeod - Scotland

Now I am in Seattle it is a shorter trip to visit my favourite barber compared to when I lived in Hong Kong. Always worth the journey for a great haircut and to catch up with an old friend. Cheers, Alistair

Alistair McPherson - Seattle, USA

It is with a mixture of sadness and fond remembrance that I write these words. Today is October 12, 2007, one year exactly after I visited Paul the Barber. I had made an appointment with Paul long in advance and only he knew that he would be shaving me that day. My wife, Judy, stood by in wonderment as my beard of 14 years disappeared under Paul's deft hand. Making the trip to Scotland was a dream come true and our visit to Paul's remains a favorite highlight. Paul's gracious reception lingers yet in our memories. Paul is a genuine gentleman, a master at his craft, and it was an honor to have sat in his chair

David S. King - North Carolina, USA

Hi Paul, Glad to see the camera up again!..I usually check in around midnight here (California), so you are usually just starting your day...Nice to hear some music...Hoping eventually we can eavesdrop on some great conversations!!!!! Greetings from U.S

Michele Nyberg - Californina

Hi Paul, It was great seeing you again on the 22nd January when I popped in for a haircut. Your shop looks terrific and I have certainly seen the changes over the years. Had a look at you web site and it is very professionally done. As you know, you have been cutting my hair for the past 36 years and it has been a pleasure every time. I must be one of your longest serving customers if not the furthest travelled customer; Scotland, Saudi Arabia and now Canada. You always give me a great cut although there is a lot less hair to cut now that I am 50! Keep up the good work Paul See you the next time I am back in Scotland, probably June 2010 for my sister's 50th Birthday.

Robert - Arnprior, Canada

Hello, Paul, from Tennessee! It is 0900 AM here in the states (eastern time). I have just stopped by for a moment to see your webcam. I'm usually not at home to see it when you are at work. The cam is wonderful, very clear, and you have a beautiful shop. And right now, I am enjoying the Pink Floyd. Now it's "The Wall". Previously it was "The Division Bell". Nice! Looking good!

Ceace - Tennessee, USA
My wife and I have been watching your webcam with real interest. We will be flying into Glasgow in May, staying a couple of days, then going onto Fort William, Inverness, Edinburgh and then flying out of Glasgow. I have hopes of stopping by and getting a hair cut at some point. Thanks for your site. Hope to meet you in May.

Mark & Deborah Bell - Plainfield, Indiana, USA

Hi, Loved calling in on your web cam tonight, found it by accident while doing other searches. I could not understand a thing you were saying but it was wonderful to listen to the accent. I am an Australian, my dad is a Scot, and I still have relations in Glasgow

Catherine - Australia

I found your webcam. I love it. I just have one comment. I used the audio link as I was viewing too. I love to hear the way you Scots talk and the lingo you use. However, I can't really hear it with the music playing. I know you have the music/television to help pass the time for your customers, but I would love to hear you speak! Is there a way to tone down the music in your shop just a little? Thanks so much--would love to come visit you some day. Have a great day!

Nelda - Bedford, Indiana,USA

I've been tuning in to your web cam for a while now, watching from North Bay, Ontario, Canada. Your shop looks so nice and comfortable, I hope one day to visit Scotland and you and your great shop would be one of my stops.....by the way.....love the audio, hey once in a while could you wave to us out here. A faithful viewer"

Michele Curran - N. Bay, Ontario, Canada

Fantastic Paul, I came to Canada in 1967 from Glasgow, wife used to live in Johnstone. In all the eleven years I have been surfing the web, you site and Xmas light show is one of the best I have seen. Whoever set up the web site is to be commended. Hope you are around for a long time.

Sam Murphy - Canada
Hi Paul, Feel like you are an old friend. Log it to your camera every day. Hope to come and visit the Barbershop some day. Maybe to get a good haircut. My wife was born and raised in Buckie, up north between Aberdeen and Inverness. Keep up the good work

Jim Macdonald - Ponte Vedra Beach, Florida USA

Hi Paul, Just had a look at your great Website & Live Cam down here in New Zealand, What a great looking Shop and great cutting by you too Paul

Kia Ora from Wellington, New Zealand

I have been enjoying your webcam since it came into existence with camvista. While I previous visits to UK have not taken us to Glasgow, only the roads passing it by, our next visit will include your lovely area. I'm sure that since you have shared your shop with the world, the world will now come to you. My husband has already said he'll stop by there when we stay there in 2008. See you then

Laura Farmer - Fernandina Beach, Florida, USA

Hello; My name is Robert Paterniti and I am sending this email from Hubbard, Ohio!! I found your cam when I was surfing on the web. Well done and give us a wave/hello back! Regards from the US! P.S. When my wife and I visit your country next, I will come to your shop for a haircut!!!!!

Robert Paterniti - Hubbard, Ohio, USA
Hello from the Volunteer state. I love watching you on your webcam and when I come over I want to visit and meet you in person

Bonnie Tankersley - Tennessee, US

Amazing.I can see a barbershop thousands of miles away .Shop is very nice,I like it.

Iris - China

Greetings from The Netherlands. I do like the webcam very much and look every day to it! Gives me a real Scottish feeling. Beautiful barbershop by the way!

Wim Gilbers - Netherlands

Greetings from Detroit Michigan. Just wanted to say I visit your cam everyday now and really enjoy watching. Please keep the cam going and best of luck and god bless...take care paul

Liz - Detroit, Michigan, USA
Marry Me Paul. Can you cook to?! Just kidding. I love your site. I think you are a class act!

Rose Bud - Illinois, USA

Greetings from New Jersey, USA. I have to tell you I get a kick out of watching your web cam. Although, an American I used to live in Airdrie. Every now and then I log on just to watch... Have a great day!

L.F - New Jersey, USA

Greetings from Perth Western Australia. Was looking up web cams and came across yours. Hope to pop in for a hair cut next time I'm back on holiday

Bruce Walker - Perth, Australia

Found out about you from my friends Sandra and Rob Ross. You cut Rob's hair, but I grew up in Johnstone so remember the shop from years ago. It is really fun to look at your pictures. Shop looks lovely

Maureen Murphy - Long Island, New York, USA

You Have a beautiful shop!!! Hope you can cut my hair one day :)

Tracy Garcia - Greenville, South Carolina, USA
- read the -
Barbershop Poem
---
---
Down at my barbers not like your doctors or dentist is he
His hands may be busy but his patter is free
You can ask for a crew cut he'll do any style
There's coffee and sweets if your waiting a while
The music he plays is both soothing and good
Creating an atmosphere that sets the right mood
On the wall you'll see pictures abound
And on T.V. screens pictures without sound
There where your sitting on red covered seats
There's magazines, newspapers and a variety of sweets
Out of the window you view the buzz of the street
But outside looking in it's blank and discrete
Make an appointment a little extra you'll pay
But there's the guarantee you'll be done right away
Paul Evangelistas is of Italian descent
A haircut from Paul is money well spent!
by Arthur McLellan Artist & Poet
- Short History Of -
The Barber's Pole
---
---
The barber's trade is indeed an ancient one. Razors have been found among relics of the Bronze Age circa 3500 B.C. Barbering is mentioned in the bible by Ezeikiel who said "And Thou, son of man, take thee a sharp knife, take thee a barber's razor, and cause it to pass upon thine head and upon thine beard."
Barbering was introduced in Rome in 296 B.C. and barbers soon became popular and prosperous. Their shops were centres for daily news and gossip. All free men of Rome were clean-shaven, while slaves were forced to wear beards. It is from the Roman word "Barba" meaning beard that the word barber is derived.
About 334 B.C. Alexander the Great made his soldiers shave regularly for the purpose of gaining an advantage in hand-to-hand combat so that his warriors were able to grasp an enemy by the beard, while they themselves were safeguarded in this method of combat. The barbers of early days were also surgeons and dentists. Since the barbers were involved not only in haircutting, shaving and surgery, they formed their first organisation in France 1904. Ambroise Pare, the father of modern surgery and the greatest surgeon of the Renaissance, began his career as a barber-surgeon.
The origins of the barber's pole appears to be associated with the service of bloodletting. The original pole has a brass basin at it's top representing the vessel which leeches were kept and also represented the basin which received the blood. The pole itself represented the staff which the patient held onto during the operation. The red and white stripes represented the bandages used during the procedure, red for the bandages stained with blood during the operation and white for the clean bandages. These would then be hung out to dry after washing on the pole and would blow and twist together forming the spiral pattern similar to the modern day barber pole. So there we have the barber pole - a historic link with surgery.
- contact Paul -
Shop Hours & Location
Address
5 High Street, Johnstone, Renfrewshire, PA5 8JZ, Scotland, UK
Phone
Email
Shop Hours
| | |
| --- | --- |
| Monday | 8.30am - 2pm |
| Tuesday | 8.30am - 2pm |
| Wednesday | Rest Day |
| Thursday | By appointment only |
| Friday | By appointment only |
| Saturday | By appointment only |

Our Barbershop is situated diagonally opposite the Lidl supermarket
Ample car parking
Easy access for wheelchairs
Stockists of American Crew and Fudge products
A full range of Gift Vouchers are available
Wedding Parties.... by appointment
- links -
Charities / Miscellaneous
---
---
Charities
Over the years Evangelistas Barbershop have helped raise considerable amounts of money for charities and it is always our pleasure to help.
St Vincent's Hospice is non-denominational and offers care and support to patients who have been diagnosed with life threatening diseases such as cancer, motor neurone disease and other neurological conditions.

Between 1998 and 2013 our generous clientele have raised the grand total of £5,029.23 to this very worthy cause. Congratulations to each and everyone for their support!
Their aim is to help sick children by making their stay in hospital less distressing for them and their families, by funding medical equipment, research, and treatment facilities.
Macmillan Cancer Relief make a real difference to the lives of people living with cancer and have been leading the way for almost a century.
Starlight Starbright Children's Foundation is a non-profit organization dedicated to making a world of difference for seriously ill children and their families.
Miscellaneous
Below is a collection of links to web sites that, for one reason or another, we'd like to share with you. If you wish to exchange links with us please contact Paul the Barber by email.
Hate spiders? Make your home a spider free zone with the SpidaTrap spider catcher. As seen on BBC's The One Show.
A new doorway to creative images.
Mutts Manners is a dog trainer service based in Johnstone, Renfrewshire.
At Mutts Manners we deal with all dog behaviour issues. Dealing with dog problems like aggression, fear and anxiety, excessive barking and problems walking on a leash.